For the love of god, do not make those donuts! They are dangerous, very very dangerous!
I FINALLY got my Real Simple magazine. I ordered(and paid) for it May 25th. Yeah, rediculous, eh? I also got a gourmet. So, I'm gonna be in hog heaven tonite!
Did anyone watch Design Star on hgtv? I was addicted and I knew David was gonna win. I thought Alice was good too and I loved her accent!!
I'm missing Charleston. :(
It's been raining non-stop today. I didn't want to go out in it, but that's just not possible with my son. He loves being outside and he finds rain "fun". So, I ran around outside with him to get the mail so he could giggle. Then I had to drag him to Bi-Lo. I haven't done a real big grocery shopping yet, so it seems every two days I'm going to buy stuff for dinner. Tonight I'm cheating....we're having sausage dogs with chili and doritos...lol. And for dessert I'm making donuts! Paula Deen made them with canned biscuits and I want them! click on the yummy picture for the link.
Has anyone seen the show "Charlie and Lola" on Disney? It is the cutest, sweetest show! Lola's voice is so cute and the way her brother is so good to her....its just so sweet. They both have great imaginations and she gets so excited about little things. Things that I used to get excited about and things that most kids these days don't. I want my kids to be excited about things.


We wanted to focus on the house today and although we got a bunch done, the house still looks like a pig's stye. We also had to run a few errands. One which involved spending a small fortune on a new washer and dryer(panic attack spending the money). We got the front loading ones so we can build a countertop over them. We now need to sell our other washer which is practically brand new. I might try to sell it on craigslist in charleston, since thats where it is.

The bathtub had glass doors which were gross. They also made it hard to get in and out, so today we ripped them out! I was worried the tub would be hard to clean, but it wasn't. Everything came clean easily. We bought a new shower head, curtain rod and just the clear curtain until we find our nice cloth ones. The bathroom already looks 100% better.

The babe has been sleeping in the guest bedroom because we painted his room, but today we moved everything in. It still needs some paint touch ups, which we'll get to in the next few weeks and the shoe moulding which will hopefully get done soon. Its not decorated yet and I'm not digging how everythig is situated, but we just wanted it all moved in. The room is much bigger then I thought it was. I got all the outlets covered because today he was less then an inch away from jamming a screwdriver in there. Yes, I'm a bad mom...tell me something I don't know...LOL.

I've got some of the cabinets lined with contact paper and the kitchen is slowly, but surely, coming together. Well, atleast being organized. It looks like shit with the dark cabinets. I plan to paint them white. I hate painting so I'm always putting it off. I need to paint lots of things!

Lee is cleaning right now. That's very rare and it's very nice. ;)

Does anyone get excited about certain things? Material things that just shouldn't get you that excited? I have a bench that is covered in a very retro floral, vinyl fabric. It looks as it might have gone in a diner or something. I had it in my old diningroom and it was cute. I have decided to paint it black and cover it in the same material I did my chairs in. There is a perfect spot in our new diningroom to put it and I JUST CAN'T WAIT! It's going to look so good, plus that's 2 extra seats at the table. I want to find a "last supper" print to put above it. I told my mom that I wanted one and she got very excited and is on a mission. She's thinking religiously, I'm thinking art and controversy......what better piece to put in a diningroom? I love the look.

Well, I am pooped. I'm gonna get ready for bed and watch the boob tube!
This is probably the first time I've sat down all day.


We bought a lawn mower today, which was needed because our grass looks dreadful. I'm hoping Lee will have time to cut it tomorrow after work. We're holding off on other things, such as the washer, dryer, dishwasher and sink because we have lots of work to do here. Such as painting, cleaning, etc.

I bought curtains for the diningroom, but I've decided I dont like them. I'm going to take them back and look for roman shades. I need something that isnt too over powering.

Things seem a little overwhelming right now, but I know I'll settle in nicely soon enough!
We're home. Thank goodness. The floors look great! They aren't 100% enjoyable yet because we have to add shoe moulding and the screwy floor guys havent cleaned the glue up yet. They have turned out to be a horrible company, but I'm not letting it bother me and I know I'm going to be very happy with the floors.
minnorose
Contents of my purse:
1. cell phone
2. wallet
3. sunglasses
4. lip glosses
5. washcloth for the kiddo
6. baggie in case I use the washcloth
7. WW point counting card
8. orbit gum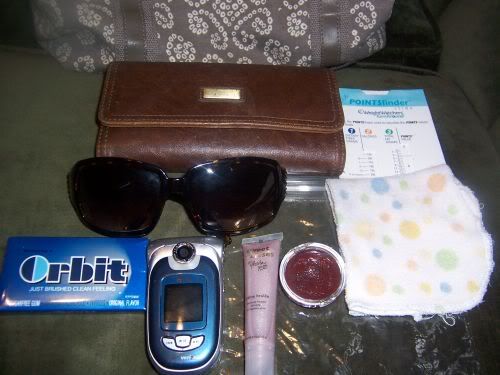 stolen from
It's my last day in Charleston. I've been here for over a week and have had a good time, but its time to go to my new house...lol. The floors were promised to be finished today.
We have a new playgroup here in Charleston, so I'll try to make it whenever I can. Baby and I have had a great time both times we've been. I may use my mom's house to host the next one if we can make it baby friendly. eek.

This past weekend I made a pizza that was so delicious! I opted for an already made crust and I used an idea from a local greek restaurant. The pizza was spread with EVOO, spinach dip, sliced fontina cheese, gorganzola and garlic. It was the best freakin thing EVER!! I recommend these two cheeses. It was part of a recipe in the latest Gourmet or Bon Appetite magazine. (don't remember which). They had a homemade crust and topped it with these two cheeses, but had a sweet wine syrup tossed with red grapes. I want to try that recipe, but seemed a little too time consuming. I've been VERY lazy all week.

I made some of my oatmeal cookies yesterday. I havent baked in awhile because of WW, but these tasted so good even though they resulted in a kitchen fire! Just so you know, coconut will catch fire! I had to wake Lee from a dead sleep to help put the fire out. It scared the shit out of me.

Well, until next time.......


I also want to get
home_challenge
back up and running. Please join and make some posts to help it become successful!
I promise I'm trying to get back into LJ. It was much easier with an infant...lol. My son is now running all over the place. He is an absolute doll! He weaned himself from breastfeeding a week ago. I'm glad he did it on his own. It feels weird and a little sad, but its nice.
I would love to know why this world is full of dishonest people who have no problems with screwing people over.
When we purchased our new house, just like our first home, we paid for a year warranty that was to cover anything that went wrong with the house in that first year. So, in the first week of moving in, our AC broke. The warranty company was called and the man who came out to fix it, came right out and said that we were screwed. He said to our faces that there was a clause in the contract and even if we were to hire a lawyer, it would be a lost cause. Then the dumbass said the warranty company only works with them, which to me, means they're both crooks. He did say that if they could find this "obsolete" part then it was no cost.
So, they find the part and order it. Tuesday they were to come out to fix it and it would be no charge. What a relief, right?! WRONG. They were due there in an hour and we get a call saying the parts ordered were wrong. So, we are waiting on a phone call. Lee gets it today and they have to replace it and our cost will be $1100. WTF?! So, the money we paid for a warranty was useless.

So, yesterday "Floor it Now" starts on our floors. The sales man and the installer both knew about the hardwood that was already in our diningroom. They just "forgot", so now we get to pay an extra $175 so they can rip that up along with the carpet. We have already gone over our floor budget as it is, and now this.

Its just so overwhelming and discouraging.
So, apparently we got to Charleston just in time to be hit by a tropical storm. Yippee!! We'll be here for 3 days while our hardwood floors are installed. Looking forward to the gloomy weather, it makes me feel like a kid again!